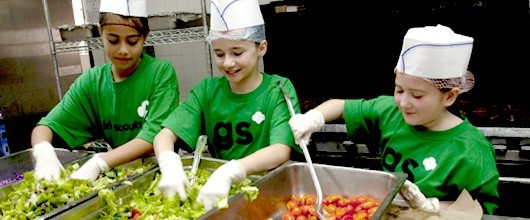 Bronze Award
Welcome to the Girl Scout Bronze Award, the highest honor a Girl Scout Junior can achieve. As you and your team plan and complete your project, you'll meet new people and have the kind of fun that happens when you work with other Girl Scouts to make a difference. Download the Bronze Award guidelines to find out how.

You can pursue your Girl Scout Bronze Award if:

You're in fourth or fifth grade (or equivalent)
 

You're a registered Girl Scout Junior
 

You have completed a Junior Journey


Girl Scout Bronze Award Steps



Build your Girl Scout Junior team
 


Choose your Bronze Award project
 



Congratulations! You've completed your Bronze Award!
Bronze Award Spotlight
 In 2018, approximately 356 Girl Scouts earned the Bronze Award in our council. Among them were Troop 40129 of Camas, Washington, who partnered with a local animal shelter to brighten the days of pets waiting to be adopted. The girls visited the shelter to read to cats and dogs, providing much needed socialization that increases the pets' chance of adoption. Plus, the girls sharpened their reading skills along the way!
Troop 41702 of Forest Grove, Oregon built bat houses and displayed them at local Farmer's Markets to promote bat conservation. One of the bat houses was even installed and dedicated at Mountaindale Outdoor Program Center!