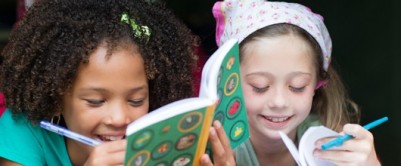 Girl Scout overnight camps - Camp Arrowhead, Camp Cleawox and Camp Whispering Winds - are the perfect place for your girl to develop new skills and find self-confidence in a safe, fun environment. No prior Girl Scout experience needed to attend! Learn more at Summer Camp 101 on February 2, 2019.
Continue >


The Surprising Benefits of Storytime
23 Jan 2019
It's no secret that reading to your child starting at a very young age is a good thing to do. Storytime is an excellent way to bond, it'll boost her vocabulary, plus, who doesn't want to raise a book-lover? But the benefits of reading to your kids actually go far beyond what you might think. Here are three more ways storytime will benefit your girl as she gets ready to start school.
The Shy Girl's Guide to Speaking Up
18 Jan 2019
Whether it's defending a peer from a bully or sharing an answer in class, your girl's ability to speak up is an important skill to master—and it'll be way easier if she gets in the habit now. Here are some tips on how to teach her to raise her voice.