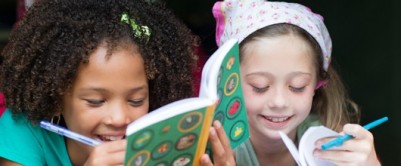 10 Times She Shouldn't Say "Sorry"
20 Mar 2019
You're raising your girl to be responsible for what she says and does, and know when and how to give a sincere apology when she messes up. But is she apologizing more than she needs to?
Celebrate Pi Day with Pie and STEM Activities
08 Mar 2019
Looking for a fun way to learn about math and enjoy pie on March 14? Join Girl Scouts across the council as we celebrate Pi Day! On March 14 you can participate in the fun at home or with your troop by using our Pi(e) Day Celebration packet.
Friend Breakups Are the Worst: Here's How to Help Her Through It
27 Feb 2019
Whether hurt feelings are involved or the two are simply growing apart, friend breakups can be confusing, painful, and even potentially damaging to her sense of self. Instead of making excuses for the other girl, taking sides, or trying to ignore the whole situation away, there are a few things you can do to help.