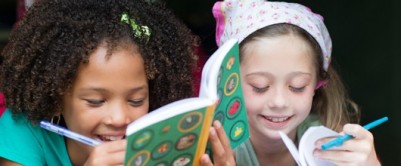 Why Just Trying is Sometimes Good Enough
24 Apr 2019
As girls get older, studies show that their fearless sense of adventure starts to give way to something a bit less fun: the pressure to be perfect. Just how serious is the problem, though? By age 13, nearly half of girls say they "aren't allowed to fail." Scary, right? Not if you follow some simple advice to encourage your girl to try new things.
Celebrate Girl Scout Bridging!
19 Apr 2019
Bridging ceremonies are the perfect time to stop, take stock of every awesome adventure, and celebrate as we embrace the future! These helpful resources can help you and your girls plan.
6 Things Bilingual Kids Need You to Know
17 Apr 2019
Beyond a wonderful way to honor and celebrate your family's heritage, raising your girl to speak more than one language can give her a big leg up when it comes to landing a job, traveling the globe, and even learning new concepts in general. But there are probably a few things you don't know about being a truly bilingual girl in today's world. Here are six things bilingual kids want you to know.