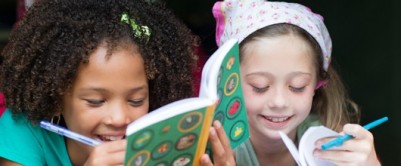 Celebrate Girl Scout Bridging!
19 Apr 2019
Bridging ceremonies are the perfect time to stop, take stock of every awesome adventure, and celebrate as we embrace the future! These helpful resources can help you and your girls plan.
6 Things Bilingual Kids Need You to Know
17 Apr 2019
Beyond a wonderful way to honor and celebrate your family's heritage, raising your girl to speak more than one language can give her a big leg up when it comes to landing a job, traveling the globe, and even learning new concepts in general. But there are probably a few things you don't know about being a truly bilingual girl in today's world. Here are six things bilingual kids want you to know.
It's Time to Stop Calling Her a Tomboy
10 Apr 2019
Although we know girls can do and be anything they put their minds to, these types of stereotypes about activities and jobs that are seen as more masculine or feminine continue to pigeonhole boys and girls, men and women—all of us!