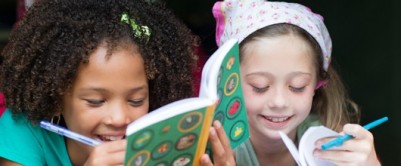 13 Feb 2019
Whether she dreams of representing her country on the women's hockey team or is getting ready to enter her school's spelling bee (who's to say she can't rock both?), your girl needs to be ready to compete. And a big part of that is understanding how to be a gracious loser as well as a compassionate winner.
The Real Problem With Parents in the Lunchroom
06 Feb 2019
When it comes to the lunchroom, most schools' rules are pretty much the same—stay in line, no soda or candy, and definitely no food fights. But some schools have had to implement a new rule this year, one that's causing controversy and ringing a few alarm bells: no parents in the lunchroom. Some dads and moms say they're just following suggestions to be more involved at school and don't understand why this opportunity for quality time with their kids has been taken away from them. But the truth is, although parents may have the best intentions, their presence in the lunchroom can actually be detrimental to their child's development.
The Surprising Benefits of Storytime
23 Jan 2019
It's no secret that reading to your child starting at a very young age is a good thing to do. Storytime is an excellent way to bond, it'll boost her vocabulary, plus, who doesn't want to raise a book-lover? But the benefits of reading to your kids actually go far beyond what you might think. Here are three more ways storytime will benefit your girl as she gets ready to start school.