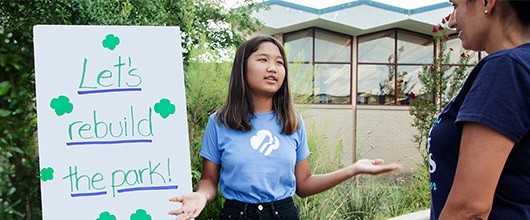 Silver Award Girl Scouts
When Girl Scout Cadettes focus on an issue they care about, learn the facts, and take action to make a difference, they gain the confidence and skills that will catapult them to lifelong success. It all adds up to the Girl Scout Silver Award—the highest honor a Cadette can achieve.  Download the Silver Award guidelines to find out how.
These projects are approved at the troop, mentor or caregiver level. Troop leaders, Juliette mentors, or caregivers can use this Silver Award rubric to help guide girls' discussion and assess the award requirements. See Step 8 below for how to submit final paperwork to complete the award.
You can pursue your Girl Scout Silver Award if: 

You're in sixth, seventh, or eighth grade (or equivalent)



You're a registered Girl Scout Cadette 
 

You have completed a Cadette Journey
 

Girl Scout Silver Award Steps
 

Identify an issue you care about
 

Build your Girl Scout Silver Award team or decide to go solo
 


Pick your Silver Award project
 


Make a plan and put it into motion
 

Reflect, share your story, and celebrate
 

A Green Future
Silver Award Girl Scouts Hazel S. and Cate T. were concerned about marine plastic pollution and the impacts of climate change, so they worked together with a local sustainability professional to create a for-kids, by-kids website—Green Future—to inspire and inform young people about climate change, sustainability and zero waste. As a precursor to their website, they created an Ocean Plastics flier with simple ways for families to reduce their carbon footprint, and distributed it through their school district's free lunch program.
"We are passionate about the Earth," said Girl Scout Cadette Hazel, "and we want other kids to be as well."
Share how you made a difference as a Silver Award Girl Scout! Send project details and photos to communications@girlscoutsosw.org, and you could be featured on this page or in other GSOSW communications.