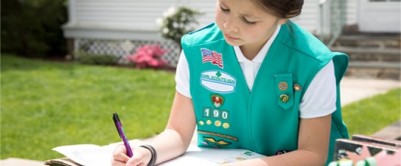 Bring the exploration, fun and learning of Girl Scouts to your family even when circumstances are keeping Girl Scouts from meeting up in person. Afterall, Girl Scouts isn't somewhere girls go or something they do—it's who they are day in, day out. Use these self-guided, free activities to keep your girl, your troop, and your community connected.
Continue >


Apply to be a Girl Board Member!
18 Dec 2020
Attention Girl Scouts in grades 9, 10, and 11! Have you been a Girl Scout for at least two years? Would you like to be an advocate for all Girl Scouts, and help to guide our Girl Scout council in fulfilling its mission? Would you like to see how a board of directors functions? If you answered "YES!" then we encourage you to apply by January 31, 2021, to be a Girl Board Member!

Important Girl Scout Cookie Program Troop Qualification Deadline Update
11 Dec 2020
Today—Friday, December 11, 2020—was initially planned as the Troop Qualification Deadline for the 2021 Girl Scout Cookie Program. However, Girl Scouts of the USA and GSOSW have become aware of several issues in My GS, My Account and gsLearn that are impacting members' ability to complete necessary qualification steps. Take these steps today to manage technical issues in My GS, My Account and gsLearn.