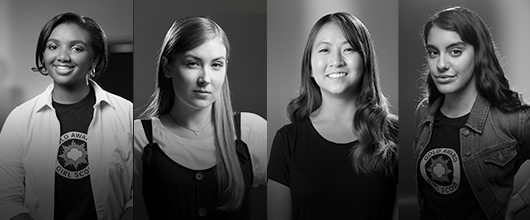 Gold Award Girl Scouts
Issues of the world, meet your match. 

Gold Award Girl Scouts are the dreamers and the doers who take "make the world a better place" to the next level.
The Girl Scout Gold Award is the mark of the truly remarkable—proof that not only can she make a difference, but that she already has.
Seniors and Ambassadors who earn the Gold Award tackle issues that are dear to them and drive lasting change in their communities and beyond. Think of the Gold Award as a key that can open doors to scholarships, preferred admission tracks for college, and amazing career opportunities.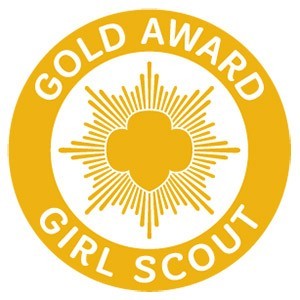 You can pursue your Girl Scout Gold Award if:
 

You're in high school (ninth through twelfth grade, or equivalent) 
 

You're registered as a Girl Scout Senior or Girl Scout Ambassador
 

You have completed two Senior or Ambassador Journeys OR earned the Girl Scout Silver Award and completed a Journey
 
Get Inspired!
Meet GSOSW's 2021 Gold Award Girl Scouts and discover how their projects made a lasting difference in our community and beyond.
Did you know? Gold Award Girl Scouts are eligible for a variety of scholarships from GSOSW and other institutions. Learn more!
Important Dates
 
GOLD AWARD INTERVIEWS
All Girl Scout Gold Awards must be approved via an interview process by GSOSW's Teen Awards Team. Gold Award interviews are conducted as needed. Interviews are currently being done remotely over Zoom. Once you submit your proposal or final report form, you will be contacted by Shannon Shea to coordinate your interview. Please expect a one to two week turnaround time. There are two interviews total, one is the proposal interview which occurs at Step 5, and second is the final interview which occurs at Step 7 (see below).
Gold Award proposal forms and final report forms must be submitted through GoGold Online.
Use the Girl Scout Gold Award Rubric to help you get started.
Questions? Contact Shannon Shea at sshea@girlscoutsosw.org.
FINAL REPORT DUE DATES
2022 High School Graduates
Final Reports Due (recommended): September 23, 2022
Final Interview by September 30, 2022. Remember that we need time to schedule the interview, so please contact Shannon Shea at sshea@girlscoutsosw.org at least one week prior to the deadline to schedule an interview time.
Council-wide Gold Award Recognition Ceremony 2022
Final Reports Due: May 3, 2022
Reports received after these dates will be recognized at the 2023 ceremony.
All reports submitted by May 3, 2022 will be recognized at the 2022 ceremony on June 18, 2022.
Girl Scout Gold Award Steps


Investigate your issue thoroughly
 

Get help and build your team
 


Present your plan and gather feedback